The Story of Whale Beach SLSC
Whale Tales
Rescues
There have been many rescues at Whale Beach since the inception of the Club. The first was recorded in 1938 when two men were rescued from a motor launch that had smashed into the rocks during stormy seas.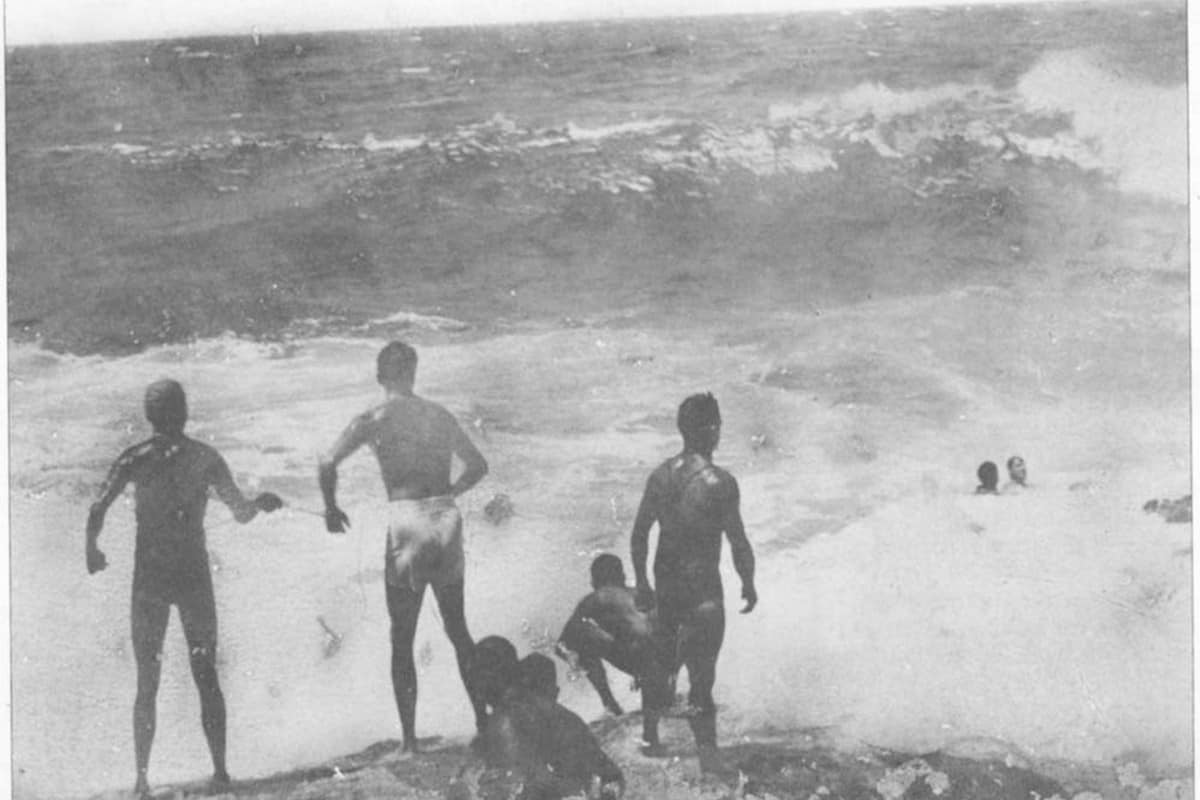 In 1964 there was another reel and line rescue by two 16 year old members who saved a drowning man. In 1982 a man drowned as five lifesavers using reel and line managed to save the man's two sons.
An exhausted diver was pulled from exceedingly rough seas by our members in an IRB. Several bodies of drowned fishermen have been recovered. There were numerous rescues each season, which were never fully recorded or recognised as members patrolled with 'vigilance and service'. Over the seasons, Club annual reports suggest some 1,200 rescues over all those patrol days. The 'Green Truck' Patrol was recognised with the top SLSA award for a significant rescue and the Club was given a new IRB. In recent times, in 2016-17 and 2017-18, the Club was awarded 'Rescue of the Year' by SLS Sydney Northern Beaches Branch and SLS NSW.
Man drowned, four saved at Whale Beach
In February 1952 a 47 year old man drowned while surfing with his two sons. Five lifesavers used surf lines to rescue the two sons and two other men who were in extreme difficulties in the same rip area. One of the Whale Beach lifesavers was 14 year old Colin Timms. The others were John Kirby 17, Bill Marlin 19, Les Singleton 19 and Les Chamberlain 19.
Youth drowned in rescue attempt
On Tuesday 10 December 1963, 17 year old David O'Keefe disappeared in heavy surf when he endeavoured to assist a 28 year old man in difficulty. Peter Webster, a Whale Beach lifesaver, with a surf reel line, attempted to swim through huge seas to the struggling youth. Whale Beach members, 15 year old Martin Armstrong with 16 year old Phil Cullis, then brought the man safely to the beach. Martin, Phil and other Club members then took the surfboat out and searched for David O'Keefe but no trace was found of the brave youth.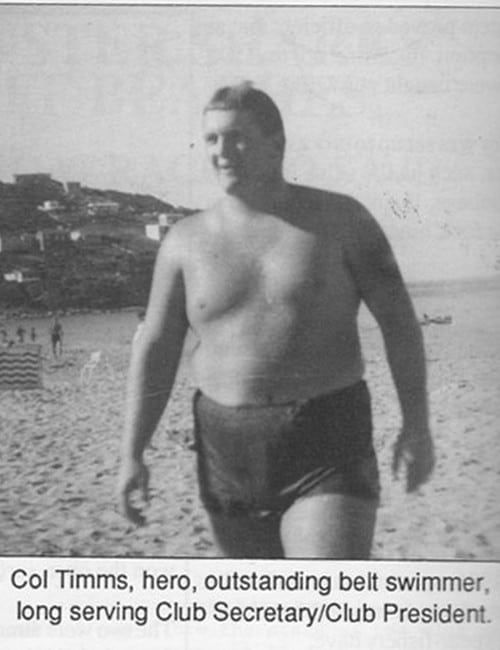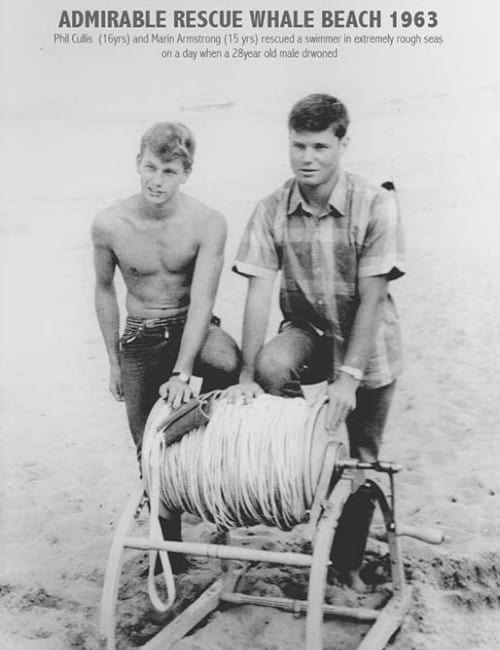 Carnival Competition
After World War 2, Club members became keen competitors at carnivals with Rescue and Resuscitation Teams and in Belt Races (now Rescue Tube races) Beach Sprints and Surfboats.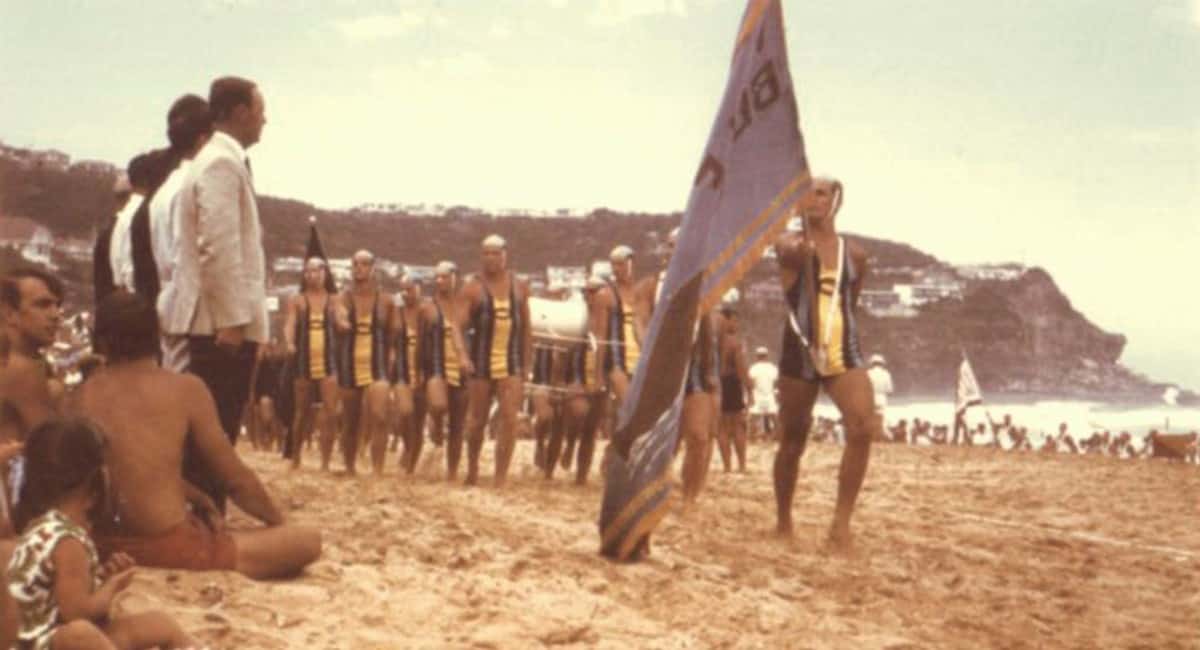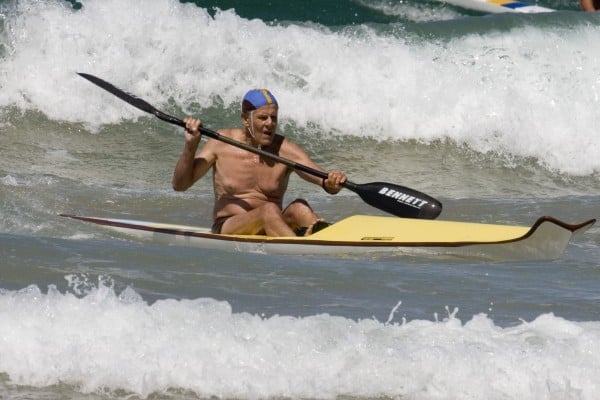 Many medals were won in the long board, surf skis and double skis races by Owen Ramsay, Richard Stewart, Rob Berry and Brian Graber. At the Metropolitan Championships held at Bondi, Whale Beach was the winner of Gold, Silver and Bronze medals in the pillow fight.
Gold medals have been won by Bill Phillips at Branch Masters, NSW State and 'Aussies' National Championships in the Surf Race and Rescue Tube events.
The Whale Beach Masters Team won the inaugural Masters' Championships at Warriewood. A number of surf carnivals were held at Whale Beach with some 15 other clubs competing.
Whale Beach fielded a March Past Team at most carnivals during the 1970s and 1980s and then in 2008, the Male March Past Team won Bronze at the Branch Championships followed by Silver for the Female March Past Team in 2010.
The Club Colours
With so many clubs already formed around Australia, Whale Beach SLSC needed to have different and distinctive club colours. The colours were chosen with the relationship being, chocolate brown for the land and rocks, gold for the sand and blue for the sea and sky.