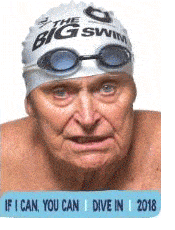 Whale Beach Surf Club veteran Paul Hughes remembers 1974 like it was yesterday - that was the year he and 43 mates lined up for the first ever Big Swim from Palm Beach to 'Whaley', with the now 81-year-old credited as first across the line.
In fact, Paul swam the fastest times in each of the first two years - although a five-minute handicap imposed after his maiden victory saw him finish fourth that year. "Because I won by such a big margin the first year, they gave a me the penalty," Paul recalls. "When I started I was swimming all alone - that's not a good feeling, so I went hard to catch the field."
Paul is the face of this year's 2.8km Big Swim - 'If I can, You Can' - with race director Simon Morgan canvassing far and wide for input from swimmers who have competed in 10 or more Big Swims.
"This is the surf club's annual significant fundraiser and all funds raised go to saving lives here at Whale Beach and other local beaches as the club's volunteers quite often assist with lifesaving activities across the local beaches," said Simon.

"The Macquarie Big Swim is a true Ocean Swim. Swimmers compete against each other but also the swell, chop and other conditions through the Tasman Sea around the headland, which makes this ocean swim such a challenge.

"There is a rich history at a local level with approximately 300 volunteers, all local, assisting with on-the-beach registration, traffic control, water safety, first aid etc. It's a far cry from 1974, when there was no water safety team, just a couple of guys on surf skis and a few private boats!"
In 2022, the swim enters its 49th year and celebrates its 48th staging, having been called off just once, in 2005, due to surf conditions.

Here are some of the recollections about the Big Swim, this year on January 28th:
"In the early swims, my awesome Dad followed the bodies around on his surf ski (my rescue craft, fortunately never needed), and was always able to spot me (no idea how) in amongst the splash of hobbling coloured heads... Some of these years were pure bliss: flat, crystal clear waters right around the headland; and others, more of what appeared to be an overwhelming challenge, with massive dumping surf at both ends. Only one year was I 'kissed' by a bluebottle. I see that as pretty lucky... For me, this swim used to be a celebration of being young and fit and being part of an amazing day of community, fun and sense of great achievement... and now, as I head to (OMG) 50, it's about proving that my age is just a number and not something that will stop me experiencing one of the best feelings in the world."- Christina

"I have swum in all years except four; the first swim started beside the pool and the club invited the great Des Renford to lead off the swim and I remember looking at this portly older gentleman and thinking if I can't beat him there is something wrong... I did it in 20 something minutes; Des was about an hour - but of course he could have kept going to Sydney! He was a true marathon swimmer... And of course in the early days there was a keg and roast on the spit at the finish." -Alex

"I used to love coming around the headland and sometimes, when I was a little too close in; I remember seeing .some amazing marine life on the rock shelves – once there was a Port Jackson shark finning below me. Coming in at Whale, I always wondered how much of a shore dump was happening and whether I'd be able to make it up the beach." - Rose

"I did my first Big Swim in 1996, I've swum everyone since, bar two; one year it was cancelled and one year I was away. I know this because when I started, we all used to get a small sample pack at the end of each swim, which included a bumper sticker - 'I did the Big Swim' – and the year it was conducted. I never put one on my car, but used to stick them on my filing cabinets at work, and somewhere I have a photo of the cabinets with the stickers and the earliest was 1996." - David

"I've just been through my archives and found my first certificate from 1984. I also came across a hand-written letter from 1985 which I received for winning my age category - only 94 females entered that year. Since my first swim 32 years ago, I believe I have completed 25 Big Swims." - Sue

"Some years we have swum through thousands of little jelly fish, other swims we have swum into strong southerly winds and other times it has been crystal clear, this is what makes this swim AN ABSOLUTE MUST-DO." – Peter
And of course, for those new to ocean swimming, the URM Little Big Swim, starting at 8.30am before the Macquarie Big Swim, is a short course around Kiddies Corner at Palm Beach – the very best way to be introduced to Ocean Swimming.