Sydney Northern Beaches Rescue of the Year won by Nautical Nines!
Rescue of the Year for Sydney Northern Beaches was won this year by our very own Nautical Nines! The North Shore Times journalist Caryn Metcalfe covered their achievement:
QUICK thinking and a burst of adrenaline got a group of Knox surf lifesavers moving during a mass rescue last year.

Now the teenagers have been recognised for their efforts, winning Northern Beaches Surf Lifesaving's Rescue of the Year award.

Richard Leonard said the Whale Beach rescue was an intense experience.

"Two of the younger Knox boys saw people out the back of the big surf," he said.

"I ran out with a rescue tube and flippers, Luke Parks ran out with a rescue board. We went straight out the back through the waves."

Richard made it to the three swimmers first and got the first person on the boat.

Meanwhile, the group's patrol captain launched the inflatable rescue boat.

"It wasn't until we got out there that we realised it was a bigger rescue," Richard said.

"We had to get the three people into the boat because the waves were too big to put them on the board and paddle in.

"We got them on therapy oxygen to make sure nothing happened."

The 16-year-old said it was not until 20 minutes after the event that he realised how serious it could have been.

"It's just all adrenaline and instinct at the start," he told the North Shore Times.

"I've done a couple of small rescues, but this was my first mass rescue.

"The other Knox boys, some of the younger ones only got their Bronze Medallion two weeks before. It was a nice introduction for them."Richard, of Waverton, has only been a surf lifesaver for about two seasons, with the first half of his first season spent in training.

He said after he finished his second season he had decided to get more qualifications.

"It's a pretty good sport," he said.

"Who wouldn't want to spend their Saturday on the beach instead of playing basketball inside.

"I originally played basketball, but got injured and couldn't do physical activity, so surf lifesaving was a good option as I've always been a surfer."

Richard said his main inspiration in the role was club captain Lara Boyle, who was awarded NSW Lifesaver of the Year.

"She's always there at the club and always there with a smile," he said.

The students in the patrol group Oscar Press, James Pegg, Angus Kellaway, Harrison Muller, Dylan Gay, Jack Bregenhoj, Sydney Robertson and Nicholas Dijohn were initially awarded Rescue of the Month for November 2016.

This meant they were eligible for the Rescue of the Year award.

Richard said he was the only one at the awards night.

"We didn't expect to be awarded for it," he said.

"It was such a surprise and such a good feeling.

"Sometimes people are hard to save because they don't think they need it.

"But the people at this rescue couldn't complain, because by the time we got out there, they realised they were in trouble."

Knox students patrol at Whale Beach each Saturday throughout the summer sports season, with the relationship between the Whale Beach SLSC and Knox dating back to 1999.
Read the whole article here.
Photo credit: Damian Shaw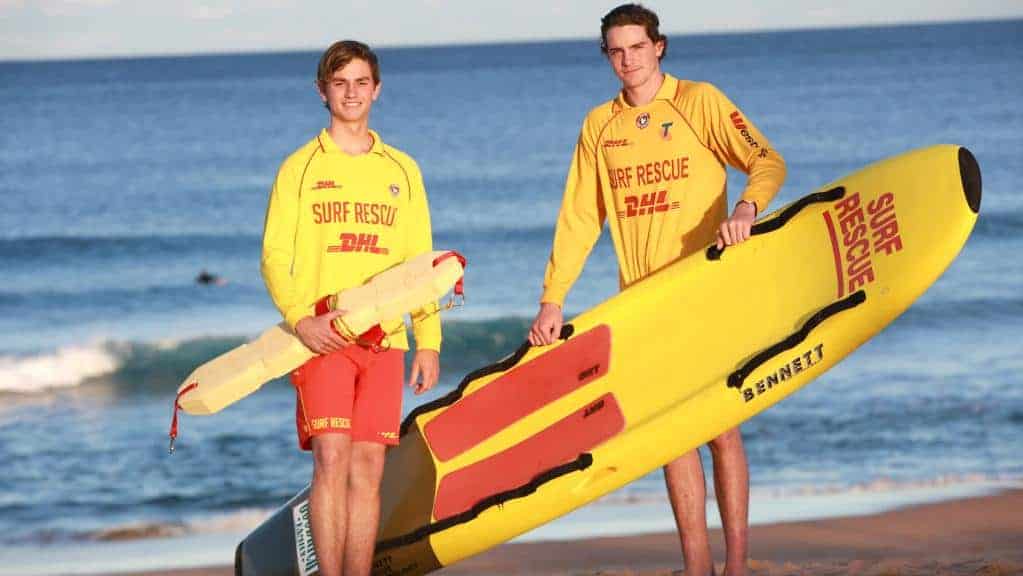 Want to get involved?
Whether you are a pro on the rescue board, can keep a cool head during first aid, want to learn some new skills or just love hanging out and flipping burgers on the barbie, there is a place for you at Whale Beach Surf Life Saving Club!
Explore our membership options
Whale Beach SLSC
227 Whale Beach Rd,
Whale Beach NSW 2107,
Australia Whale Beach SLSC is proudly sponsored by:

The Strand, 
Whale Beach, New South Wales 2107
(02) 9974 4944